The groomsmen play a vital part of a wedding. They are the ones who help the groom all throughout the process of planning for the wedding – standing by him when he tries on wedding suits, offering help during the wedding day itself, organizing a great stag do, and giving a best man's speech.
With all the tasks and responsibilities that your groomsmen hold – from the planning down to the wedding day itself – it's just right to give them the best gifts. If you're still unsure what to give them, then here are some of the best groomsmen gift ideas that are worth checking out.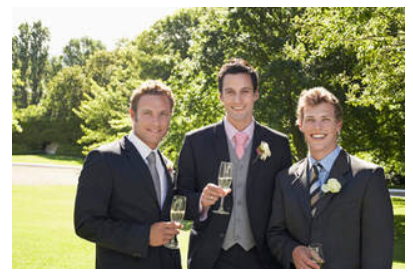 Money Clip or Wallet – Go for a simple yet nice and elegant leather wallet instead of the cheap ones you find in the market. This will be a good replacement to your friend's duct-taped and old wallet. You can also pick a metallic money clip. This is a great gift as you can engrave it with their favorite quote or initials.
Tie Clip – The tie clip is making a great comeback as a groomsmen gift. Aside from being functional as this keeps a tie in place, your groomsmen can also use it to add more style into their tie. They will look neater and more elegant once they stand by you with matching tie clips.
Classic Sweatshirt – This is a gift that they can use over and over again. If you're holding a fall wedding, then they can start using it to warm themselves while still looking dashing.
Fun Socks – Give your groomsmen a matching pair of fun socks complete with their favorite college team or NFL player. They will definitely love it plus it has some personal touch.
Cufflinks – A classic pair of cufflinks are the best gifts that you can give your groomsmen if you want them to be fully prepared for the special day. This can also help them dress up without worrying too much in case they're also nervous about walking down the aisle.
Tie – Add one to your groomsmen's collection of handsome and quality ties. If possible, choose the same pattern for all of them. This will serve as a remembrance that they played a huge part on your special day. You may also choose a unique tie for each of them. Just make sure to pick one, which perfectly fits their specific style and personality.
The wedding day is not only about the bride and the groom. There are also people who spent time and effort to make it to your wedding and turn it into a success. Among them are your groomsmen, so you have to pick the best gift for them.